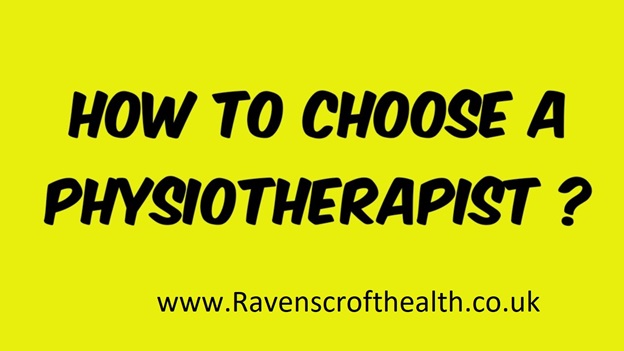 How to choose a physiotherapist? Important points to consider
Donald Dom, 4 months ago
0
3 min

read
472
Physiotherapists, like all other health practitioners, are regulated by stringent service requirements and specialize in various fields. Choosing the right physiotherapist is crucial whether you have a specific health condition or have sustained an injury. A physiotherapist who isn't well-chosen can lead to delayed care outcomes, higher costs, and dissatisfaction. Your physiotherapist should be able to comprehend your medical condition and define treatment objectives.
There could be a large number of physical therapists in your area who can support you. It's important that you select the right physio/physiotherapy clinic for your needs. Here is a list of five things to think about when choosing a physiotherapist for yourself or a loved one.
Author: Mr Ahsan Sheeraz
Hip And Knee Orthopaedic Consultant at Ravenscroft Health – https://ravenscrofthealth.co.uk/
Qualification
When working with any health professional, it is important to ensure that the physiotherapist is completely trained and certified. A physiotherapist must have received a degree from an accredited college or university. Before you begin treatment, make sure to review your physiotherapist's qualifications.
Expertise
Physiotherapy is a large profession, so look for a physiotherapist who has the required credentials for your issue. So, if you have a sore back, go to a musculoskeletal specialist, and if you're healing from heart bypass surgery, go to cardiovascular physiotherapy professional. Before considering care for a specific illness, it is important to choose a field of expertise.
Location
It's important to think about where you want to go for treatment, particularly if you need it for a long time. When you have musculoskeletal issues or are healing from surgery, driving or traveling long distances is not prudent or advisable. You should select a physiotherapist who is close by or who is easy to access, but make sure that all other conditions are met first.
Methods of treatment
Physiotherapists have historically used methods such as movement and massage, but there is now a broader variety of choices. Other therapies, such as reflexology, acupuncture, hydrotherapy, and others, are used to treat a particular illness or injury in addition to conventional methods. Your medical condition may necessitate a particular treatment process. Inquire about the availability of a preferred alternative therapy. Many London physiotherapy clinics also have alternative treatment options, so they may have what you need.
Availability
The availability of the physiotherapist is probably the most important aspect to remember. When you're in agony, the last thing you need is to be added to a waiting list. It's important to get treatment as soon as possible, so inquire about the workload. This can be critical if you have a relapse and need urgent medical treatment. Small practices can provide outstanding care, but larger hospitals are better suited to deal with the problem of availability.
Before you finalize the physio, do some study on what other patients with similar conditions have to say about the procedure. A quick Google search, as well as reading a few reviews, should suffice.
For More information, Please visit, https://ravenscrofthealth.co.uk/london-physiotherapy-clinics
Related posts